e Per iscriversi al Valsesia Lancia Story e sufficiente compilare il modulo (scaricabile cliccando sul pulsante), inviarlo via e-mail a: info@valsesialanciastory.com ed effettuare il pagamento della quota corrispondente
Se si desidera trasferire la propria iscrizione alla Federazione Asi presso il nostro club si prega di indicare anche il numero di tessera già in possesso oppure, per una nuova iscrizione all'ASI indicare il codice fiscale.
Le quote di iscrizione sono:
Socio ordinario Euro 50,00. Per i ragazzi dai 18 ai 30 anni gratis.
Socio Ordinario + Federazione A.S.I. base Euro 110,00
Socio Ordinario + Federazione A.S.I. Formula In Euro 120,00
Socio Ordinario + Federazione A.S.I. Formula Full Euro 150,00
Il versamento della quota si può effettuare:
Con un bonifico bancario sulle coordinate IBAN IT09 C 06085 44900 000001000174 intestato a Valsesia Lancia Story segnando come causale "Quota associativa" e l'anno .
Direttamente presso la sede operativa di Varallo, Palazzo d'Adda, ogni mercoledì a partire dalle ore 21.15
Inviare poi una copia della ricevuta di pagamento al seguente indirizzo
Valsesia Lancia Story, Via G. Lancia, 13025 FOBELLO (Vercelli)
oppure all'indirizzo e-mail info@valsesialanciastory.com.
La nostra segreteria invierà il tesserino con il bollino per l'anno ed una copia de L'Anticipo, la rivista ufficiale del Club.
NOTA: La quota di iscrizione e valida per l'anno solare per la quale si effettua il versamento e scade sempre il 31 dicembre.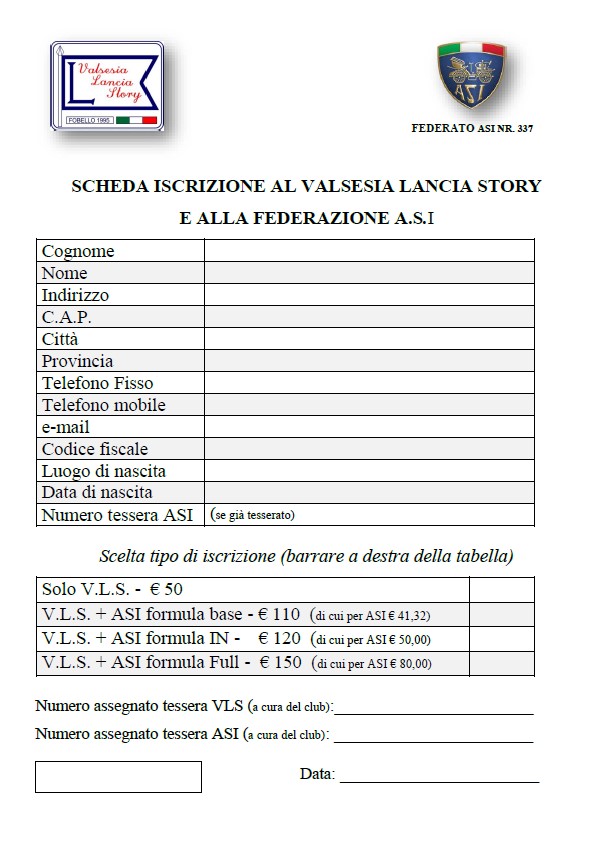 To become a member of Valsesia Lancia Story send an e-mail at info@valsesialanciastory.com with your name and address.
An enrolment fee of 40.00 Euros is also required and may be made in the following ways:
– by Bank Transfer to International Bank Number (IBAN) co-ordinates IT09 C 06085 44900 000001000174, account name 'Valsesia Lancia Story', bank Banca di Asti – Varallo and entering 'Club Subscription' and year in the space marked 'reason'.
Send a copy of the payment by e-mail to info@valsesialanciastory.com
Our secretary will send the membership card with stamp for valid year and a copy of the official Club newsletter 'L'Anticipo'.
NOTE: the enrolment fee is valid for the calendar year in which the payment is made and will expire 31st December